Ceiling fans are an effective way of cooling down a room. They can make you more comfortable, help cut costs on your cooling bills and they come in a wide variety of sizes, styles, and options.
Read on for our expert reviews of the best ceiling fans available. Check the latest prices to ensure you get a great deal!
Our Picks of the 7 Best Ceiling Fans
Image

Name

Westinghouse Lighting BENDAN Ceiling Fan

The stylish Westinghouse Lighting BENDAN Ceiling Fan offers energy-efficient air circulation and features four reversible blades, powerful air movement and quiet performance. Read more

Westinghouse Lighting 78158 Turbo Swirl Indoor Ceiling Fan

The Westinghouse Lighting 78158 Turbo Swirl Indoor Ceiling Fan has an integrated LED light fixture with chrome rings and frosted opal glass. It features five blades, remote control and energy-efficient air circulation. Read more

Westinghouse Lighting 72290 Jet Plus 105 cm Three Indoor Ceiling Fan

The modern Westinghouse Lighting 72290 Jet Plus 105 cm Three Indoor Ceiling Fan features a high-powered motor that creates a comfortable environment, four-speed wall control and reverse switch for summer and winter operation. Read more

Westinghouse Lighting 72185 Vegas Indoor Ceiling Fan

The contemporary Westinghouse Lighting 72185 Vegas Indoor Ceiling Fan features three reversible blades, three-speed control, on/off function for fan and light and a high-quality motor that delivers powerful air movement and quiet performance. Read more

MiniSun 42″ Metal Brushed Chrome Modern Propeller Design Ceiling Fan

The ultra-modern MiniSun 42" Metal Brushed Chrome Modern Propeller Design Ceiling Fan features four reversible blades, three-speed settings and remote control. Read more

QAZQA Modern Ceiling Fan with Light and Remote Control

The A++ energy rated QAZQA Modern Ceiling Fan with Light and Remote Control features a sleek-looking design, a low noise output, and ensures excellent air circulation. Read more

Hunter Fan Builder Deluxe Ceiling Fan with Light

The Hunter Fan Builder Deluxe Ceiling Fan with Light combines 19th-century craftsmanship with 21st-century design and technology to create a ceiling fan of unmatched quality. Read more
Best Ceiling Fans
1. Westinghouse Lighting BENDAN Ceiling Fan

Keeping your room comfortable is stylish and easy when you invest in a good ceiling fan. The Westinghouse Lighting BENDAN Ceiling Fan looks stylish and keeps your room cool. The sleek style of the fan and quiet performance ensure that your room stays comfortable. The reverse switch allows you to use the fan in the winter to make your room warmer. The fan is easy to install and energy-efficient so your energy bills won't go up.
Features
Sleek Design
The sleek and stylish design of the ceiling fan adds class to your room. The light maple blades and white finish lighten your room and work with almost any type of decor. The spotlight fixture is LED compatible.
Reverse Switch
The reverse switch is convenient when you want to keep your room warmer in the winter. When you put the fan in reverse the warm air is directed down so you feel it. Switch the fan back in the summer to circulate the air in the room so you stay cool.
Powerful Air Circulation
This fan has a lot of power and it really moves the air around the room. It is also very quiet and you will hardly notice it when it is turned on. The fan is energy-efficient which means you can run it 24/7 without affecting your utility bills too much.
Easy Installation
Installing the fan is easy if you have basic electrical skills. The dual mount keeps the fan secure and the installation manual is illustrated which makes self-installation a breeze.
Pros:
Reverse switch allows you to use the fan all year long
Energy-efficient air circulation keeps the room cool
Quiet operation won't be distracting
Sleek, contemporary light maple and white finish adds style to any room in your home
Cons:
Ceiling fan does not include a remote control
---
2. Westinghouse Lighting 78158 Turbo Swirl Indoor Ceiling Fan

If you want to stay cooler in your room, a ceiling fan makes a huge difference in the comfort level of your room. The Westinghouse Lighting 78158 Turbo Swirl Indoor Ceiling Fan has a gorgeous wood finish and the remote control makes the fan very easy to use. The fan is energy-efficient and the three speeds of the fan ensure you get to enjoy a room that is as cool as you like.
Features
Stylish Design
This ceiling fan has an attractive design that looks great in any space. The blades have a light maple finish and the light is a beautiful opal frosted glass. The titanium metal finish gives the fan a stunning look.
Remote Control
The convenient remote control ensures that the fan is easy to operate. You won't have to get up to pull a chain and you won't have to worry about the chain breaking off in the lamp. The remote control allows you to operate the light and the fan. It even allows you to set the speed and put the fan in reverse when you want your room to feel warmer.
Energy-efficient Air Circulation
The fan doesn't use a lot of power which makes it an energy-efficient fan. It circulates the air quietly and with a lot of power thanks to the five blades on the fan. It will keep rooms up to 25 square meters cool and comfortable.
Easy Installation
The fan is easy to install and features a dual mount installation process. The manual is included and is fully illustrated which makes it easy to install on your own.
Pros:
Stylish maple and titanium design adds sophistication to any room
Remote control makes the fan easy to operate
Three speeds and five blades allow you to adjust the comfort level in your room with ease
---
3. Westinghouse Lighting 72290 Jet Plus 105 cm Three Indoor Ceiling Fan

Are you tired of ceiling fans that fail to live up to your expectations? You may have had experience with ceiling fans that make a lot of noise, consume so much power, or don't come with extra lighting. Say goodbye to all of these problems by getting the Westinghouse Lighting Jet Plus indoor ceiling fan. This ceiling fan has everything you're looking for, all without putting a dent in your pocket.
Features
Modern Look
One of the best things about this ceiling fan by Westinghouse Lighting is that it features a sleek and modern design. This makes it an excellent choice for new homeowners who don't want to compromise on style.
High-power Motor
This ceiling fan is equipped with a high-power motor. Even if you turn it up to the highest speed setting, you'll find that it provides the exact comfort level you need.
Excellent Coverage
The three blades measure 142 cm each, providing excellent coverage to ensure that your entire room benefits from cool air.
Four-speed Wall Control
There's a wall control that allows you to operate the ceiling fan easily. Choose from four different speed settings depending on your needs.
Reverse Switch
You shouldn't buy any ceiling fan without a reverse switch. This one enables you to reverse the blades for easy operation in the summer and winter.
The Westinghouse Lighting Jet Plus indoor ceiling fan is surely worth the money. It's sleek, powerful, and efficient, allowing you to enjoy all the benefits of a ceiling fan while looking stylish at the same time.
Pros:
Ceiling fans of old come with a pull chain, but modern ones usually come with a wall control. This should give you an easier time turning the fan on/off and adjusting the speed settings.
It's hard not to love this ceiling fan with such an elegant white finish. It perfectly matches any modern room.
---
4. Westinghouse Lighting 72185 Vegas Indoor Ceiling Fan

When your bedroom is getting too warm and you want a simple and stylish way to cool it off, the Westinghouse Lighting 72185 Vegas Indoor Ceiling Fan is what you need to stay cool. This white fan looks sharp and sophisticated. The contemporary finish keeps rooms up to 20 square meters cool. The fan has three speeds and the powerful motor keeps the air circulating around the room so you feel more comfortable.
Features
Contemporary Design
The white finish looks great in any home. The contemporary style works well in modern homes but it also works well with most types of decor. No matter what the setting, this classic white ceiling fan will fit right in. The fan works well with ceilings that are both low and high. The three reversible blades on the fan have a white light maple finish with frosted opal glass.
Three Speeds
The fan has three speeds so you can choose the right comfort level for your room. The high-quality motor ensures that the fan produces powerful air movement. The fan also has a reverse function so you can use it all year long.
Quiet Operation
The fan is very quiet so you don't have to deal with noise once it is installed. The fan won't be distracting and the quiet operation ensures that you get to enjoy spending time in your room without feeling bothered by noise.
10 Year Warranty
The fan has a ten-year warranty which means you have peace of mind when you buy it. It also comes with an illustrated installation manual. This fan can't be installed with an extension rod.
Pros:
Contemporary white design works in any home
Quiet performance won't be distracting
Three speeds and reverse function give you more control
---
5. MiniSun 42″ Metal Brushed Chrome Modern Propeller Design Ceiling Fan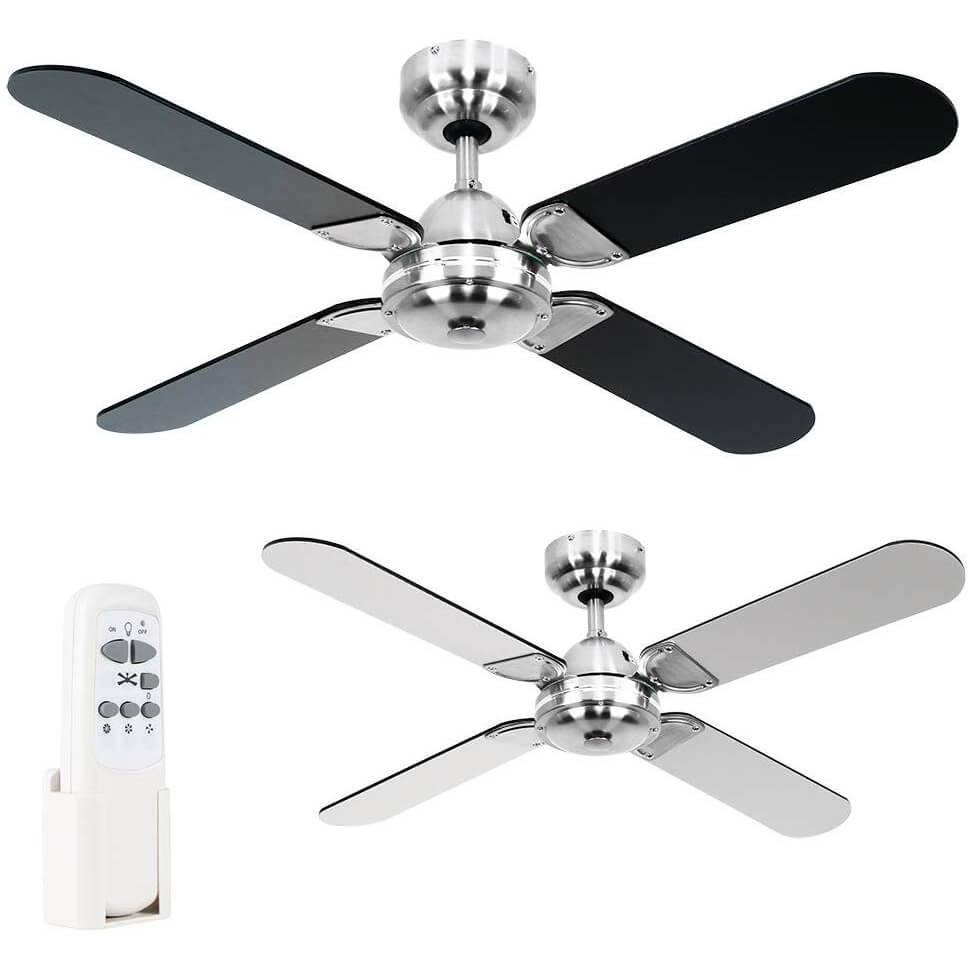 We all know how hot UK summers can be and the cold that accompanies UK winters. Without a proper plan on how to handle the extra heat, your residence can become a furnace during the day and akin to the solar ice caps at night. As a homeowner, you may be looking for an appliance that can help you combat the heat of summer and cold when winter comes.
Well, it's your lucky day! Have you ever heard of the MiniSun 42″ Metal Modern Propeller Design Ceiling Fan? This is an innovative new fan that comes with a directional motor. This essentially means that the blades can rotate forward and in reverse making this fan a one of a kind innovation.
Features
Extremely Versatile
This fan is designed with a directional motor fan meaning that it can be used when it is too cold or warm. The user can change the settings using the remote control to direct the rotors depending on the conditions outside.
Different Speed Settings
With this fan, you get to choose the level of coolness that you want in your room. The MiniSun 42″ Metal Modern Propeller Design Ceiling Fan comes with three speed settings; slow, medium and, fast.
Blends in Well
This fan has a neutral colour and chrome design meaning that it blends in well with almost any interior decor.
Detailed Remote Control
You do not have to get up from where you are to change the speed settings or direction of the rotors in this device since it comes with a detailed and well labelled remote.
Pros:
Can be used in winter and summer with exceptional results
Comes with a remote making its use fairly easy
Speed settings can be changed depending on the existing conditions
It blends in well with most interior decor schemes
Cons:
Without technical knowledge, installing this fan can be daunting task. You may have to rely on the expertise of a professional to get the installation done right.
---
6. QAZQA Modern Ceiling Fan with Light and Remote Control

If you're searching for a sleek-looking ceiling fan with lights and remote control, the QAZQA modern ceiling fan is the perfect choice for you. This multi-functional ceiling fan has stylish colour on both sides giving you the option of choosing between a wooden or black finish. With leaf size of 53 cm and a total width of 130 cm, the fan moves quite a bit of air. Maximum noise levels of 43.5 dB means it is super quiet.
Features
Design
The first thing you notice about this fan is its aesthetically pleasing and sleek -looking design. With two colour choices on the fan blades, you have the option of choosing a side that matches the existing decor of your room.
Excellent Airflow
The leaf size of 53 cm and a total of 5 fan blades in curved mean that you get a lot of moving air once you switch it on. With a total height of 38.5 cm and a total diameter of 130 cm, this fan is designed to be perfect for a large room.
Energy-Efficient
Its energy rating is classified as A++ which means you do not need to worry about power usage when it's running.
Remote Control
The package also includes a remote control with buttons for all the functions including on and off as well as for fan speed.
Overall, it's an aesthetically pleasing and sleek looking ceiling fan with lights. It is super quiet and moves a lot of air which makes it ideal for any large bedroom.
Pros:
It has an aesthetically pleasing design with dual colour option on the fan blades.
It is highly energy-efficient with an Energy class rating of A++
It also includes a remote control making it easy for you to control the fan
It also has space for bulbs with a max 40 W rating
It is super quiet at noise levels of just 43.5 dB
Cons:
The lights are not dimmable which means you can't control the brightness
---
7. Hunter Fan Builder Deluxe Ceiling Fan with Light

Ceiling fans are an excellent addition to any home. However, it can be challenging to find one that looks classy these days, as most options are made from plastic. Hunter changes this by offering elegant ceiling fans that look like they came from the 19th century. Pair this with new innovations and you have the perfect ceiling fan for your living room. The Hunter Deluxe ceiling fan is a prime example. Many people agree that it's one of the most stylish ceiling fans right now.
Features
Timeless Appeal
The one thing that stands out the most about this ceiling fan is its timeless beauty. The blades are made from Brazilian Cherry, giving you a classic hardwood look. Just imagine how this fan would look like when you have a lot of hardwood in your living room as well.
High-quality Craftsmanship
It's clear that Hunter has got things right with their Deluxe ceiling fan. Not only does it look good, but it functions efficiently as well.
Easy Operation
This ceiling fan comes with a pull chain that makes it easy to turn on and off. This is also used to adjust the speed settings. If you choose, the fan can be operated via a wall switch or remote control as well.
Wide Coverage
With 5 blades measuring 132 cm each, expect this fan to provide cool air even if you have a large living room.
The Hunter Deluxe ceiling fan should be your first option if you want a fan with a timeless look as well as a quiet and efficient operation.
Pros:
Rated at 60 watts, this ceiling fan shouldn't burn a hole in your pocket. It also helps you save upwards of 40% each year on cooling costs.
Another thing you'd love about this fan is its quiet operation. Even at the highest speed setting, you wouldn't find the noise annoying.
Cons:
This ceiling fan isn't the easiest to install
---
Ceiling Fan Buying Guide
You have likely read quite a few times that a ceiling fan in a warm room can save you money and energy use. Keep reading to learn what ceiling fans are, how they work, the kinds there are, and the many features to take into consideration as you shop for them.
What Is a Ceiling Fan?

A ceiling fan is typically a mechanical fan, mounted on the ceiling of a room. Often powered by electricity, they are suspended from the room's ceiling, where hub-mounted rotating blades circulate the air of the room. This has the effect of cooling people down by instilling the slow movement of air into the otherwise still atmosphere of a hot room.
How Does a Ceiling Fan Work?
You might remember from your schooling years that hot air goes up. When a ceiling fan is set to rotate in a counter-clockwise direction, the spinning blades produce a force that sucks hot air towards the fan. This has the effect of pushing any rising hot air in a downward direction.
That might not sound like what you want, but the down draft means that cool air rushes to the top of the room where the hot air was. This down draft cycle is what gets cool air moving and circulating throughout the room.
The interesting thing is that your room doesn't actually cool down, as it just feels cooler with a wind chill effect. Since your body feels like it is cooler, it starts emitting more heat, which is what makes you feel cooler.
For that matter, blades can also be set to rotate clockwise for a reverse effect where warm air is kept closer to the floor. This can keep a room warmer in winter and spare the workload of your heater or furnace.
Where Should Ceiling Fans Be Placed?
Installation or mounting of ceiling fans should happen in the centre of a room. They need to be a minimum of 2.4 meters above the floor, although 3 meters yields more optimal airflow. They also need to be least 0.5 meters from any wall.
What Are the Different Types of Ceiling Fans?
The three main categories of ceiling fans are standard, low profile, and outdoor units.
Standard
Standard ceiling fans are the ones you see in most homes. Their versatility ranges across numerous styles and finishes, as well as functions. Some have pull chains, whereas others have remote controls. Many have either an attached light or an included light kit. Customisable blades are options on many makes. Some might also have down rods so they can be mounted lower than the actual ceiling level.
Low Profile
Low profile ceiling fans are also known as flush mount or even hugger fans. These are useful in homes if ceilings are less than 3 meters tall, so people don't bump their heads into them. They're not as effective, given how much closer they are to the ceiling, but they still provide some cooling help. They're also usually just as diverse and versatile as conventional ceiling fans.
Outdoor
Outdoor ceiling fans might also be called overhead patio fans. These are made with different construction better-suited to stand up to moisture, humidity, and weather. If you have an outdoor living space you like to spend time in that is already covered by a solid roof, an outdoor ceiling fan can let you enjoy some cool air movement while outside. They're common for sun rooms, screened-in porches, and garages.
Features to Look for in a Ceiling Fan
Ceiling fans come in a wide variety of sizes, styles, and options. Keep reading to learn the many features you need to consider when you go shopping for them.
Dimensions
This is often going to be the first factor you sort ceiling fans by. In this case, dimension or size relates to the diameter made when the rotating blades are moving. Bigger rooms mean bigger fans. The smallest rooms are usually laundry rooms and bathrooms, followed by medium spaces life a home office or guest bedroom. Standard rooms are bedrooms and living rooms, while large rooms are usually a great room.
Installation
This is possibly a DIY project, if there is already an electrical connection at the point of mounting, and if you can easily access the space from the floor or attic above. However, in most cases, it's better to hire a professional contractor or electrician, as they can get the work done right and withing code, usually in less than two hours.
Design

Form is as important as function. You want something gorgeous to look at, especially if it's spinning all the time. Many budget models have very dry and basic designs, which might suit you, but you can find innovative aesthetics as well. Some retailers even let you design your own fan.
Motor Size / Power
This is a very crucial factor, so make sure you are buying something with a premier motor. Motors bigger than 200 mm tend to be more economically priced while still offering high performance.
Blade Pitch
The higher a pitch blades have, the more air they're going to move. Anything under 12 degrees in angle just won't move air with any kind of efficiency. Look for anything in the range of 12, 13, or 14 degrees.
Number of Blades
This is one area where form and function seriously overlap. Many homeowners find that four or five blades are more visually attractive, which is usually true. They also assume that more blades mean more air getting moved around. However, anything past three blades actually starts running into drag and resistance. Triple-blade fans are the most energy-efficient and effective.
Sound Output
There are two factors in play here. The first is the motor, and how loud it is while running. The number of blades also matter. While three-blade designs are most efficient, they're also louder. Four blades is quieter, and five even more so.
Speed Adjustments
The ultimate convenience in ceiling fans is being able to alter the airflow to what you need. Many fans have at least three settings, while others might have more. More isn't always better, as it can extend the process of finding the right speed into a longer game of hit and miss.
Lighting
Many fans have lights attached to them, or they have kits where you can attach one. It's really just a matter of personal preference. You can choose from halogen, LEDs, fluorescent, and many more options.
LED lights take minimal energy and typically last for 50,000 hours. Halogens are still 15 per cent more efficient than incandescent illumination, running for up to 1,500 hours. Fluorescent lighting only uses a quarter of the energy that an incandescent source would, averaging 10,000 hours of usage.
Energy Efficiency
Look for ceiling fans rated for their energy efficiency, as they usually only use 80 per cent as much energy. A combined light/fan fixture rated for energy efficiency might use only half the power of unrated combos. Averages are typically 70 watts across the industry, so anything you find running off of less is definitely more efficient.
Remote Control

Most ceiling fans you find will have basic pull chains for their controls over speed and illumination. However, many have remote controls. These are useful for living rooms and bedrooms with hard-to-reach fans or if you just don't want to get up. Lightweight and portable, these remote controls typically operate in a range of 10 to 17 metres. Wall controls are also possible.
Guarantee
A good warranty or guarantee can give you peace of mind in your investment. Having said that, ceiling fans typically only reach 10 years of service, which is why not all makers provide lifetime coverage. The number of hours of operation per day matters greatly here. In some cases, home insurance or a home warranty might cover a ceiling fan, on top of or in lieu of a guarantee.
Final Thoughts
Now that you have read this ceiling fan buying guide, you have learned multiple things. You know what a ceiling fan is. You also read what it does and how it does it. The advantages in terms of keeping comfortable in warm or hot weather is obvious, as is the reduction in workload of your air conditioner. Ceiling fans can cut down on how much you spend on your cooling bill or just keep you more comfortable if you don't even have AC.
You also read what different kinds of ceiling fans there are, and learned many of the most crucial facets you need to consider when shopping for them. In this process, you need to balance everything from the size of your room to the visual aesthetic already in place that you'd like to match consistently for a uniform look and atmosphere.