Electric heating is ideal for modern living providing you with a wealth of benefits. Its flexibility and controllability make it an actual substitute to mains gas central and LPG/Oil heating. More often than not, it's not only much faster to heat and safer to run but also cheaper.
Read on for our expert reviews of the best electric heaters available. Check the latest prices to ensure you get a great deal!
Our Top Picks
Image

Type

Name

Panel Heater

Wärme Designer Electric Wall Heater

The Wärme Designer Electric Wall Heater is a stylish low-energy panel heater that looks sleek and stylish and will suit any room. Read more

Panel Heater

Futura Eco 2000W Electric Panel Heater

The Futura Eco Electric Panel Heater features a slimline design and clear LCD display. It is easy to use and energy efficient. Read more

Fan Heater

Pro Breeze® 2000W Mini Ceramic Fan Heater

The Pro Breeze® 2000W Mini Ceramic Fan Heater features two heat settings, advanced ceramic technology and 60-degree oscillation. Read more

Fan Heater

STAYWARM 2000w Upright and Flatbed Fan Heater

The STAYWARM 2000w Upright and Flatbed Fan Heater offer two heat settings, a variable thermostat and frost watch protection. Read more

Fan Tower Heater

Dyson AM09 Hot + Cool Fan Heater

The Dyson AM09 Hot + Cool Fan is an energy-efficient heating and cooling solution featuring a sleek design. Read more

Fan Tower Heater

Dimplex DXSTG25 Heater

The Dimplex DXSTG25 Heater is ideal for modern living spaces and features a sleek design, quiet operation and consistent heating output. Read more

Oil Filled Radiator

VonHaus Oil Filled Radiator

The VonHaus Oil Filled Radiator is a powerful radiator featuring advanced safety features and an adjustable thermostat and complementary 24-hour timer. Read more

Oil Filled Radiator

Warmlite Portable Electric Oil Filled Radiator

The Warmlite Portable Electric Oil Filled Radiator offers efficient heating, safety features is mounted on castors with a built-in handle to make it easy to relocate. Read more

Convector Heater

Duronic Convector Heater

The Duronic Convector Heater is a lightweight, and portable convector heater that features adjustable heat settings and can be wall-mounted or used free-standing. Read more

Convector Heater

De'Longhi HS20/2 Convector Heater

The De'Longhi HS20/2 Convector Heater features forced convection technology, a thermostat, double insulation and variable heat settings. Read more

Halogen Heater

Igenix IG9514 Portable Upright 3 Bar Halogen Electric Heater

The Igenix IG9514 Portable Upright 3 Bar Halogen Electric Heater has been optimised to be safe, lightweight, efficient while still being effective at heating space. Read more

Oil Free Radiator

Dimplex CDE2Ti 2KW Electric Oil Free Radiator

The Dimplex CDE2Ti 2KW Electric Oil Free Radiator is a lightweight heater that is fast to warm up, portable and easy to move around. Read more
12 Best Electric Heaters
1. Wärme Designer Electric Wall Heater

The Warme Designer Electric Wall Heater is a stylish low-energy panel heater that looks sleek and stylish and will suit any room. It is safe, efficient, and features a programmable digital thermostat. If you're looking for a low-cost, easy to use wall heater that would work well in a kid's room or a den, then this is the ideal choice.
Features
Sleek and Modern Appearance
This sleek, slim and understated heater is a space-saving solution for keeping a living space or bedroom warm. With a slim, black appearance and a simple touch panel, this heater could easily be mistaken for a small TV. If you want something that looks nicer than a boxy infrared unit, then this is definitely a good choice.
Can Heat Up to 22 Square Metres
The instant heat mode is great for sudden cold snaps, and the weekly programmable cycle lets you automate the heater so that your home is always the right temperature. The heater works well for rooms up to 22 squared metres in size.
Waterproof and Maintenance Free
This wall heater is easy to install and use, and is maintenance-free, and waterproof too. There is no maintenance or servicing required, it couldn't be easier! Since this heater has a waterproof case you can use it in a bathroom or kitchen and not worry about steam or splashes damaging the unit.
Pros:
2KW Convector Heater is powerful and yet energy efficient
Easy to use
Requires no maintenance or servicing
Sleek, slimline, modern look
Safe for use even in a household with kids
Digital thermostat
Waterproof casting, and built-in sensors to prevent it from overheating
Cons:
The black "TV-like" look may not appeal to everyone
Needs an electric socket within reach
---
2. Futura Eco 2000W Electric Panel Heater

The Futura Eco is a perfect solution for your heating needs with its ability to set your desired temperature between 5°C and 35°C and heat a 23 square metre room. It offers a 100% energy-efficient solution for your heating needs at an affordable price.
The thermostat is set to within half a degree and will switch off to save power if the panel heater detects a drop of five degrees or more in room temperature. It also has a 24-hour timer – which is very easy to use and set up.
The splash-proof design allows you to use the heater in the bathroom or other wet areas. That's why you need to invest in this quality electric panel heater without delay.
Features
Splash Proof Design
The new splash-proof design of the panel heater allows the user to keep the equipment in the bathroom or other wet areas.
Eco Open Window Detection
This feature lets the electric heater turn off to save energy if there is a sudden drop in temperature around 5 degrees.
The Ability To Set Your Desired Temperature
You can set the desired temperature between 5°C and 35°C to heat a small room around 23m2. It's the perfect heating solution for a small room.
Three Power Categories
The Futura Eco heater is available in three power categories such as 1000W, 1500W and 2000W.
Easy To Use Control Panel
The control panel of the heater is easy to use and the indicator light will tell you what settings are currently on.
All in all, the Futura Eco 2000W is one of the best electrical panel heaters for its price.
Pros:
Clear LCD display
Slimline design
Easy to use
Economical operation
Energy-saving features
Cons:
Can take a little while to set up.
---
3. Pro Breeze® 2000W Mini Ceramic Fan Heater

When winter tarts setting in, it is high time you get a heater for your house. Instead of buying a traditional heater, you can go for the Pro Breeze® 2000W Mini Ceramic Fan Heater. Unlike conventional heaters that take considerable time to heat your rooms, this one is quicker to deliver optimum results. It comes with advanced ceramic heating settings that help to spread the heat faster than usual. The fully adjustable thermostat allows you to monitor the heat setting and set a temperature that is suitable for your home.
Features
Two Power Settings
This fan heater offers two power settings that include a low setting of 1200W and a high setting of 2000W. It also has an automatic 60-degree oscillation mode so that the heat can spread around the room instead of concentrating on a specific area.
Portable
This is a lightweight fan heater that you can carry around wherever you want.
Ceramic Technology
The advanced ceramic heating technology spreads warmth faster in the house. It is more efficient than traditional heaters, making this fan heater the ideal choice for small homes.
The Pro Breeze® 2000W Mini Ceramic Fan Heater is a bargain at this price. If you don't want to spend a massive amount on a heater but need the essential features, this model will not disappoint you at all.
Pros:
The adjustable thermostat is easy to use. You can find the controller inside the heater that also consists of a mini heater
It monitors temperature all the time and switches the heater or off to save power
It comes with an anti tip-over switch and overheat protection facilities to avoid any unforeseen damage
Cons:
It should have had a third heat setting for moderate temperature conditions
---
4. STAYWARM 2000w Upright and Flatbed Fan Heater

Want a budget fan heater that offers a variety of features like the high-end heaters? Bring home the all-new STAYWARM 2000w Upright and Flatbed Fan Heater and make your winters more comfortable this year. As they say, good things come in small packages. This fan heater is the best example that supports that saying. Its upright design makes it slim enough to fit in a room's corner. Don't go by its size because it can heat a room in no time at all. From multiple heat settings to excellent safety functions, this heater is a combination of incredible features.
Features
Two Heat Settings
You can switch between a 1000W and 2000W heating intensity. There is also a cooling fan that keeps the unit cool enough to perform all the time optimally.
Frost Watch Protection
There is an in-built frost watch protector installed inside. This will automatically fire up the fan heater as soon as the room temperature goes below -5 degrees.
Variable Thermostat
You can use the variable thermostat to set different temperature levels. The heater will continue to increase the temperature until it reaches its specific point. It will automatically switch off once it reaches that temperature.
Overall, the STAYWARM 2000w Upright and Flatbed Fan Heater is one of the best heaters to have in your house. The small size doesn't affect its performance. So, buy it now to have a comfortable Christmas.
Pros:
This heater stands vertically instead of horizontally, making it suitable for houses with small space. It is small enough to carry in your office and also on camping trips
The frost monitor detects the temperature accurately and switches the heater on automatically
It comes with a 3-year guarantee period
Cons:
There should have been a third heat setting between 1000W and 2000W
---
5. Dyson AM09 Hot + Cool Fan Heater

Finding a portable and compact fan that will be useful in winter and summer can be tricky. But when looking at models like the Dyson AM09 Hot + Cool Fan Heater, it seems to remove the "tricky" part fairly quickly. With several features that only make this option more lucrative, here is what the dual fan/heater has to offer.
Features
Effective For Heating And Cooling
The Dyson AM09 Hot + Cool Fan can heat the room up to 37 degrees, while it can serve as a typical fan when those hot days strike. And the design makes it one of the most appealing models for temperature control at home or work. Not only does it feature a dual purpose, but no installations are required and you can use it where you need it.
Convenient Control
As expected, you have more than enough control in terms of setting the temperature. This can be done via the remote, and you do not have to worry about any strange or burning smells that tend to accompany hot air from heaters. More importantly, you can choose if the air should be targeted over a long distance. Alternatively, you can set the fan/heater to spread the hot or cool air wide.
No Blades Or Heating Elements
Forget about blades that only collect dust or visible heating elements, which can potentially be dangerous if you have children. With this model, everything happens through Air Multiplier technology.
Pros:
Very energy efficient during heating and cooling
Choose the direction of the air-flow
Sleek design without visible heating elements or blades
Automatically turns off in case of the fan heater tipping over
Remote controlled
75% less noise than previous generations
Cons:
Not as effective at cooling as it is at heating
Not the most affordable model
---
6. Dimplex DXSTG25 Heater

The Dimplex Studio G DXSTG25 Heater is an all-encompassing ceramic heater with a pleasing black and silver finish. The high-powered, energy-efficient heater offers a bundle of benefits while heating any living space.
Features
Easy to Use
This heater comes with a comprehensive touch control setup making it easier than ever before to toggle between settings. Enjoy the gorgeous LED display while playing around with the settings to ensure it's heating the room perfectly every time. This attention to detail is what stands out about the Dimplex heater.
Quiet Operation
While it heats the room efficiently, this fan doesn't make a lot of noise and quietly operates at all times of the day. Whether it's in the middle of the day or late at night when everyone is sleeping, this heater will work without bothering anyone.
Minimal Footprint
Due to its smaller, refined design, the Dimplex Studio G is space-efficient making it great for smaller or larger rooms. It covers a tremendous amount of space with regards to its heating range while tucking nicely into a corner. Having something as powerful and efficient as this without needing extra space is tremendously beneficial.
Ideal for Modern Living Spaces
A concern homeowners have involves whether or not the heater is going to fit in. With the black and silver-coloured finish, this is one of the more aesthetically pleasing and noteworthy heaters on the planet. It offers a beautifully crafted appearance that's easy to fit into any living space without thinking twice. The uniqueness and freshness of this design is a major plus point.
Pros:
Sleek design for an unobtrusive set up in any room
Quiet operation at all times of the day
Exceptional and consistent heating output on all settings
Comes with an aesthetically pleasing and accessible LED display
Cons:
Average user manual for initial setup instructions
---
7. VonHaus Oil Filled Radiator

Warming up a mid- to large-sized room in a cost-efficient manner calls for the use of a powerful and energy-efficient radiator. While oil-filled heaters are designed for increased efficiency, the VonHaus Oil Filled Radiator takes energy efficiency seriously. The radiator has been optimised to produce ample heat whilst being energy efficient.
Features
Powerful Radiator
The VonHaus Oil Filled Radiator is a powerful radiator designed to heat mid to large-sized rooms. With 11 oil-filled fins, the heater can produce as much as 2500W, which is ample heat to warm your living room, bedroom, office, or other large spaces such as open-floor kitchen and living rooms.
Advanced Safety Features
To keep users safe, this radiator comes with a plethora of advanced safety features. The safety feature the VonHaus Oil Filled Radiator has is a tip-over switch that switches the radiator off in the event it tips over. The other important safety feature is its inbuilt overheat protection system. It also has a thermal cut off.
An Adjustable Thermostat With A Complementary 24-Hour Timer
The radiator comes with three preinstalled power settings that you can use as-is. However, it also has an adjustable thermostat, which allows users to control heat production precisely. Finally, it has a 24-hour timer that will enable users to program for automatic switch on and off.
Pros:
The radiator produces ample heat, making it effective at warming expansive rooms
It is easy to set up and use
The heater runs efficiently whilst being very effective in heating
The timer is an excellent addition to functionality as it proves the much-needed automation
Its compact build makes the radiator space-efficient and economical
Cons:
The instruction it comes with are unnecessarily complex
With a function over form design, the heater is not the prettiest available
---
8. Warmlite Portable Electric Oil Filled Radiator

Say goodbye to those chilly nights with the Warmlite Portable Electric Oil Filled Radiator. This 5-fin portable radiator is ideal for use in spaces that range from living rooms to caravans – and is ideal for keeping productivity ticking over in the office environment. Mounted on castors with a built-in handle to make it easy to relocate from room to room it is the ideal heating solution. The highly effective thermostat makes setting the correct temperature a breeze and the built-in safety features provide that all-important peace of mind that comes from the operation of this portable oil heater.
Features
Efficient Heating
The powerful 650-watt operation and the built-in thermostat makes this 5 fin oil heater that perfect heating solution for a variety of environments. The gentle warming action provides a steady heat level that makes it easy to maintain the perfect environment for any space.
Safety Features
This portable oil heater has been thoroughly pressure tested to ensure that it is safe to operate. The design of the overheat protection mechanism means that accidents are a thing of the past.
Energy Efficiency
The advantage of the rapidly circulating oil differentiates this portable heater from traditional 'coil type' or fan heaters. It uses less energy than older types of heaters and the design allows it to heat a variety of spaces without excessive energy consumption – even on the lower heat settings.
This is the ideal small oil type heater for both smaller and larger spaces. It makes it easy to maintain the preferred temperature and represents excellent value for money.
Pros:
Smooth castors and lightweight design allow for the heater to be relocated with the minimum of fuss and bother
Built-in safety features make this portable heater safe to operate at any temperature setting. Pressure tested and 'overheat protection system'
The thermostat makes it ideal for use in a variety of weather conditions
Excellent value for money
Attractive minimalist design
One year warranty – extended warranty on registration
Cons:
Should not be left on overnight
May be noisy when heating up
---
9. Duronic Convector Heater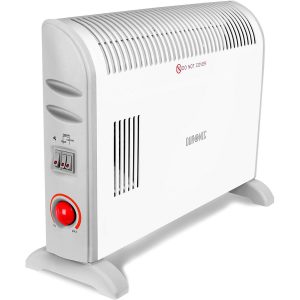 Convector heaters have a unique method of dispersing air evenly and quickly around the room. If you are searching for the best convection heater on the market, you have come to the right place. The Duronic Convector Heater is one of the best on the market for its price. Here is a full review of the Duronic Convector Heater.
Features
Lightweight And Easy To Move
You might want to move the heater from place to place in your room or you might have a specific place designed for the heater. This is a lightweight heater that is super portable and easy to move. It has cool handles to make things easier for you. You can safely lift the heater when moving it thanks to the ergonomic handles.
Free Stand Or Wall Mount
This heater can be wall-mounted because the heat is dispersed from the front/top sides. The back of this heater is quite cool and is ideal for wall mounting. If you are short of space for the heater or want to elevate it to prevent pets and kids touching it, the Duronic Convector heater is the best choice for you. You can easily wall-mount or keep it on the ground.
Variable Heat Settings
The HV120 is completely versatile. You can use it all year round because of the adjustable thermostat and fan settings. It is used in three different heat settings and could also be used as a fan to cool the air.
All in all, the Duronic Convector heater is one of the best on the market today.
Pros:
Easy to install
Versatile
Great for its price
3 heat settings: 750w, 1250w and 2000w
Safe and reliable
Quick heat and quick results
Used all year round
Cons:
Some customers have complained that they didn't receive the brackets to wall mount the unit
---
10. De'Longhi HS20/2 Convector Heater

The DeLonghi HS20/2 is a convection heater with an output of 2000W. It Is specifically built to provide heat in cold areas. You can use it to heat up a room and provide cosy temperatures. It is wide to provide enough surface area for heating even a rather large room. It comes with two preset heat settings, the user is left with the choice on which temperature setting to use. It has a 1000W output and a 2000W output.
It has new technology that features forced convection. The technology helps in evenly distributing warm air in a room. It has handles to allow easy movement of the unit from one room to another.
Features
Thermostat
it comes fitted with a thermostat so as to regulate and maintain preferred temperature. The thermostat works by detecting room temperature and thus prompting heating according to the ambient temperature.
Safety Thermostat
A safety thermostat is used to protect the unit from overheating. If the heater starts to overheat, the thermostat detects the abnormal rise in temperature and it will cut off the electricity supply to the unit. The unit then will not switch on until it cools down or reaches a lower temperature.
Double Insulation
The unit is double insulated to avoid heat loss through the walls of the device. This makes it efficient and able to supply a room with warm air. If the unit works efficiently, it becomes very economical as it consumes less.
Varied Heat Settings
The unit comes with two preset heat settings from the factory. 1000W and 2000W outputs. It comes with exceptional and flexible performance.
Handles
The heater comes with handles to enable easy portability. The heater can be carried easily from one room to another.
Pros:
Forced convection allows uniform spread of warm air
Safety thermostat to prevent it from overheating
Double Insulation for effective heating
Cons:
Takes some time to heat up
---
11. Igenix IG9514 Portable Upright 3 Bar Halogen Electric Heater

If you are on the market for a portable heater, the Igenix IG9514 Portable Upright 3 Bar Halogen Electric Heater is a great choice. This portable heater has been optimised to be safe, efficient while still being effective at heating space. Moreover, you can use the heater to warm a wide variety of spaces including your in-door home space, the garage, a caravan, home and much more.
Features
Lightweight Construction
To improve its portability, this three-bar quartz halogen heater has is made with lightweight. Users can move the heater around with ease. Importantly, lightweight characteristics do not affect the durability and sturdiness of the unit.
Heat Resistant Handle
To aid the portability capability of this heater, it has a top-mounted heat resistant handle. You can, therefore, handle and move the heater, even right after shutting it down the heating.
Energy Efficient
The Igenix IG9514 Portable Upright 3 Bar Halogen Electric Heater has been designed to be energy-efficient and economical to run. With this heater, you do not have to spend a fortune to keep your house toasty warm.
Three Power Setting
The three-bar quartz halogen heater has three power setting – 400W, 800W, 1200W. The different settings allow users to match the heat output of the heater you need. Importantly, users can match heat output with the space they need to warm.
Safety Features
This heater has an auto cut out feature incorporated into the tip-over switch. Despite the heater being exceptionally stable, you do not have to worry about an accident occurring in the event the heater tips over. It will simply shut off.
Pros:
Lightweight heater and easy to move around
Effective at warming space
Affordable
A stable base that prevents toppling over
Safe to use indoors
Cons:
Aside from the safety features, this room heater is basic; the heater is very basic few additional features
---
12. Dimplex CDE2Ti 2KW Electric Oil Free Radiator

One of the best ways to stay warm this winter is to buy the Dimplex CDE2Ti 2KW Electric Oil Free Radiator. This radiator fits anywhere and the compact size allows you to place it wherever you need a little bit of extra heat. The radiator is very efficient and it warms up fast so you get to enjoy the heat right away. This lightweight radiator is easy to move around and it will keep your house warm all winter long.
Features
Warms Up Fast And Saves Energy
You won't be waiting in the cold for long because this heater warms up 30 percent faster than other oil-filled radiators. You feel the heat almost instantly so you can start to warm up right away. The heater is also 10 percent more efficient to run than other oil-filled heaters which means you are going to enjoy lower utility bills.
Portable And No Messy Cables
When you are not using the heater you can easily hide the cables in the convenient cable storage area. The heater is also very portable and you won't have to worry about it being heavy when you move it around. Since there is no oil in the radiator, the radiator is about 50 percent lighter than other radiators. You won't have to struggle moving it from room to room.
Direct Heat Where You Want It
The Dimplex CDE2Ti 2KW Electric Oil Free Radiator allows you to direct the heat right where you want it thanks to the innovative twin-panel technology that allows you to switch each side of the heater on or off. This allows you to control the direction of the heat.
Pros:
Warms up fast
Easy to direct the heat where you want it
Portable and easy to move around
---
Electric Heater Buying Guide
Since there is a wide range of electric heating options available, it becomes a confusing task to choose the right type for your home. Fortunately, this guide explores different types of electric heating systems and provides you with plenty of information regarding its benefits. So, what is an electric heater?
For decades now, electric heaters act as a source of heat in households to offer warmth to us. The main reason for their increase in popularity is due to the relatively lower cost to, as well as easy maintenance as opposed to other sources of heat. Typically, they are powered by electricity, although a tiny percentage are still using kerosene or propane for fuel.
Generally, they convert electricity to heat by the use of metals as heating elements. Due to the high resistance of the metals, they allow a specific amount of current to flow through them to supply the desired heat. In other words, electrical energy is basically changed to heat energy.
Key Takeaways
There are five types of electric heaters available: Electric Panel Heaters, Fan Heaters, Oil-filled Radiators, Convector Heaters, and Halogen Heaters, each with its unique benefits.
Important factors to consider when buying an electric heater include heat output, the type of heater suitable for your space, safety features, portability or wall mounting options, energy efficiency, design, and price.
Electric heaters are generally cost-effective, easy to maintain, and can offer various features to meet your heating needs.
Types of Electric Heaters

There are five different types available.
Electric Panel Heaters
Panel heaters offer a combination of radiant heat and convected heat, such as convector heaters. The radiant heat only heats the person, not space. The radiant energy rays travel in straight lines and only change into radiant heat after they reach the person, just like warmth from the sun.
What are the Benefits of an Electric Panel Heater?
Provide uniform heat distribution and, hence, a comfortable warmth
The usual designs are slimline and flat so that they can are applicable in all kinds of small spots in your home
Freestanding or wall-mounting is a choice, and they're easily portable and lightweight
Fan Heaters
Fan heaters usually blow air via a heated element and eventually disperse this warm air out into the surrounding. There are commonly two types available. One type uses a metal element to produce heat, while the other uses a ceramic element to convert the energy into heat pretty fast and efficiently compared to the metal version.
What are the Benefits of an Electric Fan Heater?
Offer the quickest means to heat space
Best suited to small heating individuals or spaces
More elegant and contemporary looking
The standard variety provides features such as thermal cut-out and thermostatic controlv
Most models comprise a cool air setting
Superior energy efficiency
Feature LED temperature display, timers, and touch control panels for fast and easy use
Improved heat distribution
More elegant and contemporary looking
Oil-filled Radiators
Oil-filled radiators use convection to heat the contained oil. Since the oil is electrically heated, it never burns the oil as fuel. That also means there's no need to replace or top-up the oil.
What are the Benefits of an Oil-filled Radiator?
They are the most durable choice
Though expensive, they offer the best value in the long haul since they maintain heat most effectively
Have a more robust column design
Maneuverability with wheels to allow ease of movement
Near silent when in operation
Feature thermostat control, as well as overheat cut-out safety timers and functions
Though commonly used as freestanding, a few models allow wall-mounting
Convector Heaters
Convector heaters apply the convection principle. Heat is usually generated through an electric element as the warmed air rises out of the heater and then moves out into the room. With a more powerful heater, there's a wider circulation of warm air.
What are the Benefits of a Convector Heater?
They're quick to warm up
Near silent when running
Freestanding and wall-mounting is a choice
Lightweight and easy to move
Other models include features like timers, thermostat control, and thermal cut-out
Halogen Heaters
A halogen heater is a device that, when connected to an electric current, generates heat by making use of halogens. They use halogen elements contained in bulbs or lamps to supply a direct source of radiant heat.
What are the Benefits of a Halogen Heater?
Safe to use at home even with kids or pets around since they never get heated up
Produce no smoke
They're the best with energy-saving
Light and portable
Durable and affordable
Features to Look for In an Electric Heater
Heat Output

Before you buy an electric heater, you'll have to determine the amount of power you require to warm up your home. With a powerful heater, the heater can heat spacious rooms. Unfortunately, the manufacturers' claimed power might not always be what they say. That means that you might find yourself buying one with more or less power than you planned for. Therefore, it's prudent to test the electric heater before you buy it.
Type of Electric Heater
When choosing a heater for your home, the very first thing you'll have to make up your mind is the type of electric heater that is most suitable for your house. As mentioned above, there are a few different types you can choose from, like electric panel heater, portable fan heater, oil-filled radiator, convector heater, and halogen heater. Each of these is best suited for different homes.
Safety Features
In general, electric heaters are pretty safe to use as long as they are used properly. However, a few models tend to overheat, and this may pose a safety risk especially around kids or pets. For such models, they should never be left working for long periods. Some models comprise a 'tilt protection' feature, which ensures the heater turns off automatically every time it's tilted or knocked over.
Portable or Wall Mounted
Some models are available for both free-standing and wall-mounting, and they're dispatched with wall mounting brackets and feet. That means you can practically install the wall brackets in a single room and make use of the feet if you wish to re-position your electric heater. For easy re-positioning, a free-standing electric heater is an ideal option.
On the other hand, if you're considering to purchase an electric heater just to heat a particular room you use less often, then an electric wall heater is worth considering. You'll end up saving on the upfront costs by doing this.
Energy Efficiency
Many electric heaters maintain 100% efficiency. It's because they convert all the electricity they receive into heat. However, you can enhance the efficiency of your heater via insulation, using ceiling fans, and stopping draughts. What's more, you can boost your electric heater's efficiency by using a thermostat. The feature will assist you in limiting the unnecessary use of the electric heater.
Design
Portable heaters cannot be considered the trendiest looking home appliances. All thanks to their designers, however, some of the latest generations have a sense of style in them. Some have a distinctly futuristic design and often come with multiple colors to match your room.
Price
You can buy a basic electric heater with as low as £10 to £15 with advanced and more powerful models coming in for a few hundred pounds. For those in a tight budget, it's prudent to opt for the smaller models which come with an added benefit of portability. If not, you can buy an expensive model with additional features as a bonus.
Our Expertise in Heating and Cooling Products
At Heat Pump Source, we understand the importance of electric heaters in maintaining a cosy and efficient home environment. Our expert team has conducted extensive hands-on testing and research to bring you the most reliable insights into electric heaters.
Why Trust Our Reviews?
Industry Expertise: Our reviews are grounded in our deep industry knowledge of heating and cooling products. We leverage this expertise to evaluate electric heaters, not just on their features, but on how they function within your space to provide superior warmth.
Hands-On Testing: We don't merely rely on specifications; we subject each electric heater to rigorous hands-on testing. This enables us to provide performance measurements, from energy efficiency to ease of use, ensuring you understand how each heater performs in real-world conditions.
Transparency: Our reviews are conducted with a transparent and unbiased methodology. We assess the features and functionality of each electric heater honestly, aiming to offer you all the essential information without any external influence.
Experience: Our reviews are more than just comparisons; they are narratives of our experience. We explain how each electric heater has evolved from previous models, the design choices made by manufacturers, and how these factors affect your daily warmth and comfort.
Our reviews are crafted to guide you in selecting the best electric heaters for 2023. We provide you with all the necessary information, comparisons, and expert opinions to make an informed decision. With our commitment to quality and your desire for a warm and cosy home, we're here to ensure that your space remains comfortable and inviting.
Conclusion
We hope you enjoyed our article on the best electric heaters. There are so many things to consider when looking for an electric heater for your home. With our guide, hopefully you will have an easier time finding the perfect electric heater for your needs!
About the Author
At Heat Pump Source, our articles are the product of a collaborative effort among a team of highly skilled HVAC experts. Our dedicated professionals, hailing from diverse backgrounds in heating, ventilation, air conditioning, and refrigeration, contribute their extensive knowledge and experience to every piece of content. This multidisciplinary approach ensures comprehensive coverage. Our commitment is to deliver authoritative, reliable, and tailored advice to meet the unique needs of every household and business across the UK.