Handheld fans have become popular devices for their efficient personal cooling. They are lightweight and easy to carry around, and the convenience to cool off anywhere anytime cannot be overlooked.
Read on for our expert reviews of the best handheld fans available. Check the latest prices to ensure you get a great deal!
Our Picks of the 10 Best Handheld Fans
Image

Name

EasyAcc 4000 mAh Upgraded Handheld Fan

The EasyAcc 4000 mAh Upgraded Handheld Fan features a large rechargeable battery capacity, strong airflow, three adjustable speeds and free storage bag. Read more

COMLIFE Handheld Misting Fan

The unique COMLIFE Handheld Misting Fan is a mini handheld fan, a beauty humidifier and a colourful nightlight all in one. Read more

Intsun Mini Handheld USB Misting Fan

The Intsun Mini Handheld USB Misting Fan features a built-in rechargeable battery, adjustable three-speed winds and two modes of spraying. Read more

VersionTECH. Hand Held Fan

The VersionTECH. Hand Held Fan offers a portable, lightweight design, three adjustable speeds and a folding and multi-purpose design. Read more

QINUKER Mini Handheld Portable Fan

The QINUKER Mini Handheld Portable Fan offers four adjustable speeds levels, a removable base and multiple ways of charging. Read more

iEGrow Handheld Fan

The foldable iEGrow Handheld Fan features a unique design, multiple speeds and stepless speed technology which helps to save energy. Read more

iwish Mini Portable Fan

The iwish Mini Portable Fan offers quiet operation and features three adjustable wind speeds, rechargeable batteries and foldable handle. Read more

ibohr Mini Fan Silent Fan Electric Hand Fan

The ibohr Mini Fan Silent Fan Electric Hand Fan features an efficient brushless motor, low noise, long service life, seven blades and three adjustable speeds. Read more

Fishyu Portable USB Rechargeable Bladeless Fan

The Fishyu Portable USB Rechargeable Bladeless Fan features a unique bladeless fan with three fan levels and an aerodynamic design which can absorb wind from 360 degrees and provides a powerful and soft breeze. Read more

Mystery Mini Handheld Fan Personal Portable Fan

The Mystery Mini Handheld Fan Personal Portable Fan features blades made of soft sponge for safety, low noise output and is easy to operate with one control button. Read more
Best Handheld Fans
1. EasyAcc 4000 mAh Upgraded Handheld Fan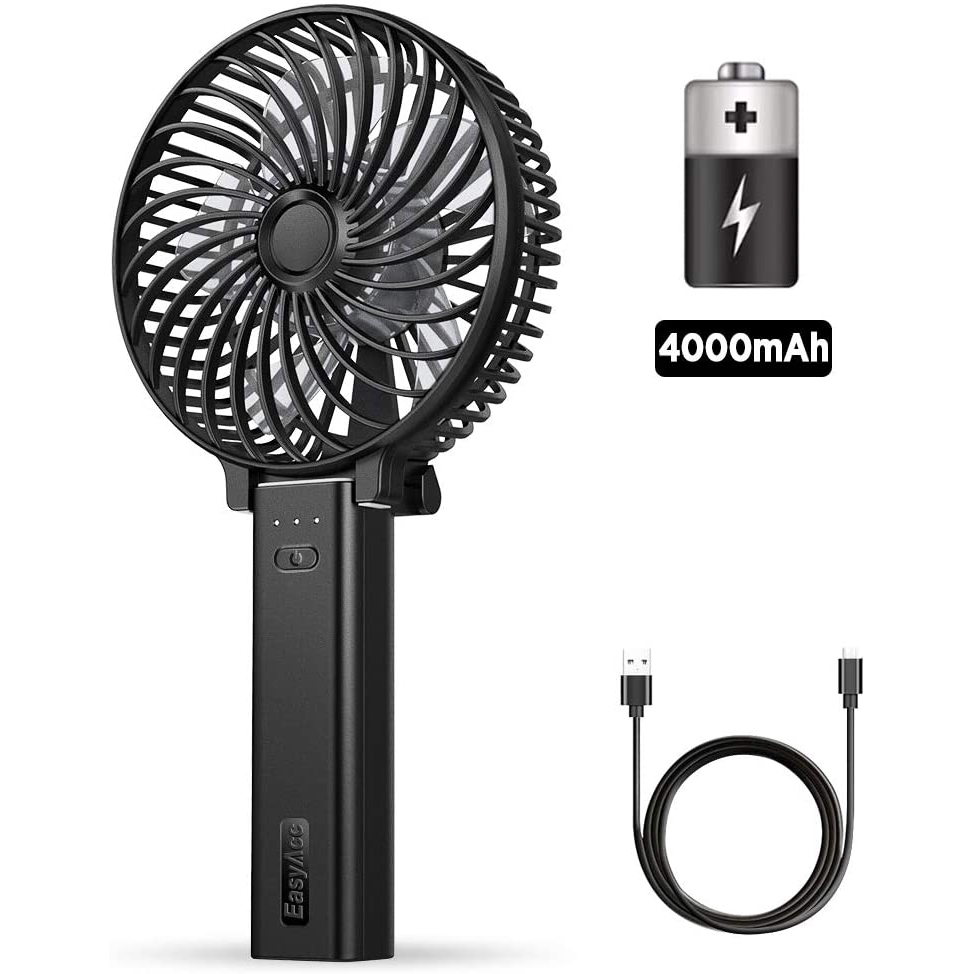 Are you looking for a way to stay cool at the beach or on those long hikes? The EasyAcc 4000 mAh handheld fan promises to keep you feeling fresh while you're on the go. Compact and lightweight, you can slip this fan into your purse or bag and pull it out when needed. The long battery life makes it a dependable option for coping with the summer heat.
Features
Robust Construction and Handy Grip
This upgraded EasyAcc fan has a chunky grip, and the fan's blades are protected by a guard to prevent damage while the fan is stashed away in your bag.
Three Speed Settings
With three speed settings, this fan helps keep you comfortable in varying conditions. Speed 1 is the slowest and produces a gentle breeze. The fan can run for up to 23 hours on a single battery charge on this setting. Speed 3 is the fastest, and the 4000mAh battery can be expected to last for up to 5 hours on that setting.
Battery Indicator
The top of the grip features a battery charge indicator which consists of three lights, allowing you to see at-a-glance how much power is remaining. When all three lights are illuminated the battery has 100% charge, two lights equates to 60% charge remaining, and one light means 30% charge remaining.
Easy to Recharge
This portable fan charges via a standard USB connection and is compatible with most USB chargers. This means you can recharge it via USB outlets, your laptop's charging port, or a universal phone charger. If necessary, it can even be charged on the go!
Pros:
Long battery life
Folds away for easy storage
Can be used while being charged
Portable
Variable speed settings
Powerful
Cons:
The included charging cable is quite short
---
2. COMLIFE Handheld Misting Fan

Keeping cool on the go has never been this easy. The COMLIFE Handheld Misting Fan is a handheld foldable fan that epitomises personal cooling. With a rechargeable battery and a humidifying feature, this fan is the perfect personal air conditioner for both indoor and outdoor use.
Features
Portable Design
The COMLIFE Handheld Misting Fan has been designed with a focus on portability. For instance, it has a compact size measuring 8.86in X 4.13in X 1.46in and weighs just 0.42 pounds. Moreover, it comes with a 180° foldable feature and a metal clip that allows the feature to clip on stands or desks.
Multiple Power Supplies
To make it as versatile as possible, you can power this fan using a multitude of options. For instance, it comes with a 2000mAh battery (which charges in 3 hours) that can power the fan for up to 13 hours. You can also power the fan using a USB power source such as your laptop, power bank, car charger, or cellphone adapter.
3-Speed Mode
You get three-speed modes; the Gentle wind mode with a 2.8 m/s speed, a natural wind mode with a 3.7 m/s speed, and the strong wind mode with a 4.6 m/s speed.
Multiple Application
The COMLIFE Handheld Misting Fan can be deployed for multiple applications. In addition to being a handheld fan, you can use it for skin humidifying and as a colourful nightlight. The misting function sprays aerosolised water on your skin, helping you retain skin moisture. The 7-colour LED lights emit enough light to light up your night.
Single Button Control
The fan comes with a single control button. A short press of the button you turn the fun on. Press repeatedly to adjust the fan speed or turn the fan off. A long press controls the mist while quick double press turns light on or off.
Pros:
The mist function improves the cooling effectiveness
Robust build
Long battery life comes in handy
Compact size
Cons:
The controls can hard to get to grips with
---
3. Intsun Mini Handheld USB Misting Fan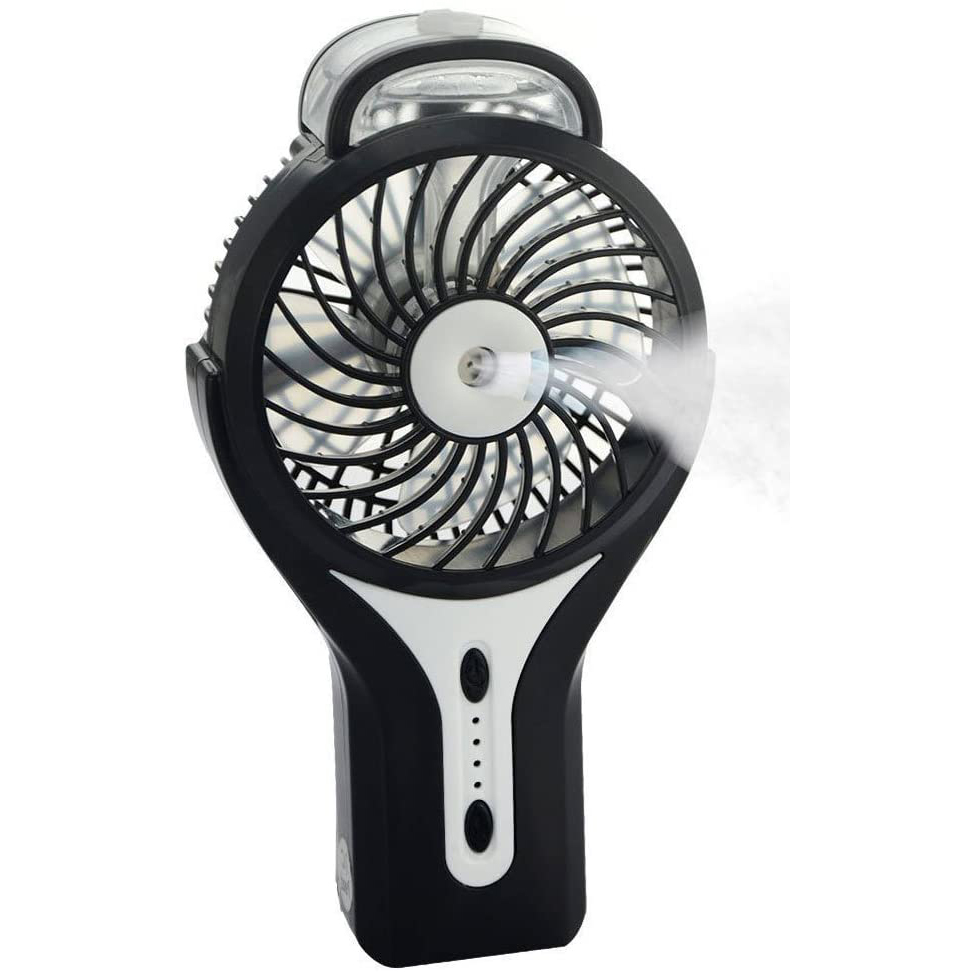 If you can't stand the scorching heat of summer days but you want to avoid using your air conditioning system, you'll appreciate the Intsun Mini Handheld USB Misting Fan. This portable fan is the ideal solution to keep you cool while working or travelling, or even while relaxing in bed on a hot summer afternoon.
Features
2 in 1 Cooling Fan and Beauty Humidifier
This mini handheld cooling fan will keep your face skin moist and hydrated, while also cooling you down. As it doesn't mist automatically, you can choose the setting you prefer.
Lightweight and Sleek Design
Weighing only 190g, and featuring a sleek and compact design, this mini fan is perfect for a wide range of situations. You can take it with you while travelling or during your outdoor hikes.
Built-In Rechargeable Battery
The built-in rechargeable battery provides between two and six hours of working time. The charging time is four hours, so you can safely do it while you sleep, to prepare your fan for the next day.
Adjustable Speed
The three speed settings allow you to choose how strong you want the wind to be. This can prove useful also while travelling, in order to make the battery last longer.
Two Modes Of Spraying
You can also choose the water spraying mode to suit your needs and your personal preferences. You can even stop the mist, if you like.
Pros:
Lightweight and compact, ideal to carry with you
Three speed settings and two modes of spraying for adjusting the air and the mist to your preferences
In-built rechargeable battery that saves you money on long-term and eliminates the need to carry spare batteries
Cons:
The 20 ml water capacity is enough for less than one hour of spraying
---
4. VersionTECH. Hand Held Fan

Not everyone has a central AC system, and so, it's easy to see how a reliable fan of any sort can be appealing. While industrial and tower fans are undoubtedly the most powerful, not many can afford the comfort of carrying a huge fan wherever they go during those hot months. As such, portable fans have become a more reliable alternative, primarily due to how small and lightweight they are.
One of the best fans in the market that holds true to this is the VersionTech handheld fan. The VersionTech handheld fan is not only highly portable but ideally powerful, given how small it is.
Features
Hanging Umbrella Design
The fan's unique design allows you to hang it on your parasol or umbrella, making it ideal for outdoor crowds and when the sun is scorching.
Multipurpose and Foldable Design
The VersionTech handheld fan can fold up to 180 degrees, meaning you can hang it upside down, put it on a table, clip it to other objects and even hold it on your hands. This is what portability is all about.
Adjustable Speed
You can adjust the speed level from low, medium to high depending on your needs. It features six fan blades and can blow wind for up to 3 meters. It is primarily powered by USB, but you can use regular batteries as well. Simply plug it to your computer, power bank or laptop etc. and it is ready to go. Its circuitry system and power efficiency allow you to cool for long without worrying about a power source.
Pros:
Highly portable thanks to its lightweight design
Adjustable speed level
Rechargeable through USB or powered by batteries
Unique umbrella design that's foldable, improving flexibility and usability.
---
5. QINUKER Mini Handheld Portable Fan

Looking for a portable fan you can take anywhere? The QINUKER Mini Handheld Portable Fan is small and portable. The fan features a USB charger that allows you to charge it anywhere. It can be used indoors and outdoors and can run from 3 to 13 hours with a single charge. This fan has multiple speeds and it even has a mode for sleeping. If you are ready to stay cool and comfortable, you can't go wrong with this fan.
Features
USB Rechargeable
You won't have to spend money on batteries with this fan. It comes with a USB charging cable that allows you to quickly and easily charge the fan. The charge lasts up to 13 hours.
Four Speeds
The fan has a low, medium, high, and sleep mode so you can get the comfort level you want. Just press the button to adjust the speed level to your liking. Sleep mode will help you avoid headaches and congestion at night. Even though the fan is small, it is still very powerful and the airflow reaches up to 3m. The fan has a brushless motor for durability.
Removable Base
The removable base makes this fan even more portable. You can carry it with you outdoors or take it to the office. The base conveniently doubles as a mobile phone holder so you can watch videos.
Portable And Lightweight
The fan is ultra-light at 165g. It is light enough to carry around and you can quickly stash it in a bag so you can take it to the park or on a trip.
Pros:
USB charging is convenient and the charge lasts up to 13 hours
Multiple speed levels ensure you get the right amount of air
Removable base allows you to take the fan anywhere
---
6. iEGrow Handheld Fan

Stay cool during balmy days with this iEGrow Handheld Fan. This portable, battery operated fan can be used as a desk fan, or held in your hand to help you cool off at the beach, on your daily commute, or wherever else you need it.
Features
Folds Away for Easy Storage
This compact fan folds away for discreet, simple storage. The fan's blades are protected with a durable housing, preventing damage while the fan is stowed in your bag or glove compartment. The device weighs just 166g, too, so you won't even notice it in your bag.
Clips on to Your Desk or Other Surfaces
Hold the fan in your hand, or use the clip or metal hanger to secure it on your desk, attach it to your child's pram, or even hang it up in a tent while you're on a camping trip. This versatile portable fan can be used anywhere.
Three Speeds
With three speed modes and stepless speed technology, this fan can be adjusted to provide the right level of air circulation with just a press of a button. The energy-efficient design prolongs the fan's battery life.
Powerful Battery
The iEGrow handheld fan has a 2000mAH battery which is charged via USB cable, allowing you to top up the battery power via your computer, a portable power bank, or any standard USB charging socket. It takes 4-5 hours to recharge the fan, giving 2-8 hours of use, depending on the speed setting.
Pros:
Lightweight (just 166g)
Durable and rugged, so can be used on camping trips
Three speed settings
Foldable, portable, and easy to angle for best air flow
Replaceable Li-ion battery
Brushless motor for long life
Cons:
The battery lasts only 2 hours on the highest speed setting
---
7. iwish Mini Portable Fan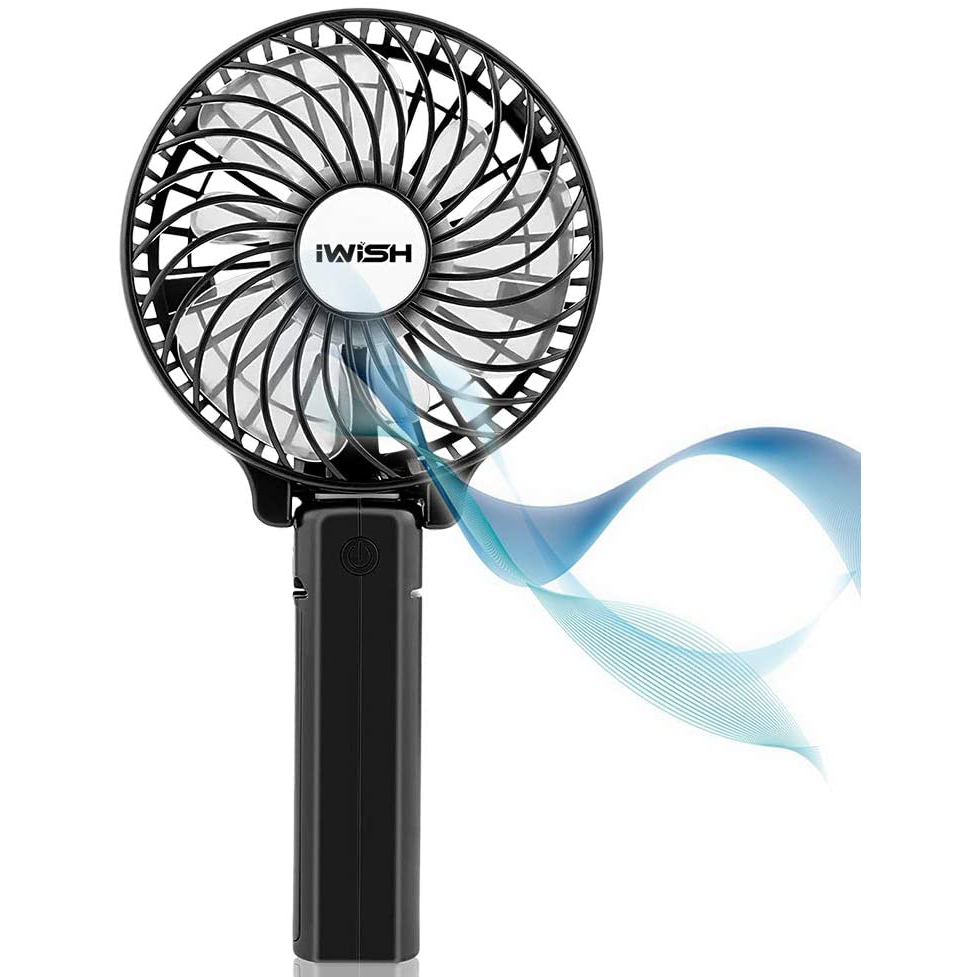 Have you ever wished to have a portable fan that you could use almost anywhere? Do you need a personal and portable fan? Then, check out the iWiSH Mini Portable Handheld Folding Mini Fan. You can use this fan in your home and kitchen. Still, you can use this fan for outdoor experiences such as hiking and events.
Features
Portable
Portability is a key feature when it comes to the iWiSH personal fan. This fan is light and small. This makes it easier for you to carry it around during hot days. Its design makes it easy to fold. This allows the fan to become smaller or rest while you use it. Still, this fan features metal clips that let you hang it from a tent or wall.
Rechargeable Batteries
You can operate this portable fan using rechargeable batteries. It can also be powered using a standard USB cable. Once the rechargeable batteries die, you can plug the fan into any standard USB port for charging through the included USB cable. You can enjoy a battery life of two to eight hours once the batteries are completely charged. This depends on the fan's speed.
Quiet Operation
The iWiSH personal fan features large and small blades that help reduce noise. They are designed to see this through even at maximum speeds.
Adjustable Speed Level
You can easily change the fan speed using a single button. This button lets to turn the stylish fan on and off. You can also increase the fan's speed using this button.
Pros:
Long time operation. You can enjoy up to 11 hours once the batteries are charged
Variety of colours to choose from
Its unique design makes it useful in many scenarios
Three wind speeds with a single button for maximum comfort
Its rechargeable batteries and USB cable make it ideal for all-day-use
Great for both indoor and outdoor experiences, including camping, shopping and working
Cons:
Rechargeable batteries last for only 3 hours when the iWiSH personal fan operates at its maximum wind speed
---
8. ibohr Mini Fan Silent Fan Electric Hand Fan

The ibohr Mini Electric Hand Fan is ideal for those looking to keep cool on the go. With 3 speed settings and a 180-degree swivel head, users have complete control over the power and direction of the cooling airflow. Manufactured from high-grade ABS, the portable silent fan has a smooth matte texture, which is heat resistance, pressure resistance and comfortable to hold in the hand.
Features
Industrial Grade Brushless Motor
Thanks to the industrial-grade brushless motor, this fan has a long service life and generates low noise during operation. Noise levels range from 20dB to 30dB, so the fan can be used while working, studying or sleeping.
7 Blade Design
This ibohr portable USB rechargeable mini fan features a 7 blade design to guarantee maximum air movement for powerful cooling. Furthermore, the head of the fan can be adjusted around 180 degrees, giving you more control over the direction of airflow.
3 Speed Modes
Users can easily cycle between three fan speed settings that range from 3200rpm to 4800rmp depending on the level of cooling required.
USB Rechargeable Battery
The on-board certified 18650 Li-ion battery provides this mini ibohr fan with between 2 and 5 hours of wireless working time. The device can be recharged in 3 hours via any USB port on a laptop, power bank, 5v output adapter, etc. with the included USB charging cable.
Removable Stand
In addition to being able to use this fan as a portable handheld cooling aid, it can also be secured in place on a desk thanks to the removable stand. This is great for those looking for a hands free personal electric cooling aid.
Pros:
Almost silent during operation
High-quality construction
Provides powerful cooling
Simple, sleek, lightweight design
Comes with a removable stand for hands-free operation
Cons:
The battery life could be better
---
9. Fishyu Portable USB Rechargeable Bladeless Fan

Are you looking for a portable fan to help you keep cool during the hot summer weather? The Fishyu USB Rechargeable Bladeless Handheld Mini Fan is the compact portable cooler you need. It lasts up to 8 hours between charges and comes with a handy detachable holder, which enables you to station the device on a table.
Featuring 3 easy to operate speed settings, the Fishyu mini fan is available in a choice of three stylish colours: white, black or blue. What's more, since the device is bladeless, it's great for those worried about children's safety.
Features
3 Speed Levels
This bladeless mini fan features 3 different speed levels – low, medium and high – so you can alter the power of the breeze to match your comfort levels.
Aerodynamically Designed
The aerodynamic design of this mini portable fan means it can absorb air from all angles to provide a powerful, soft breeze.
USB Rechargeable
The included USB charging cable means this mini fan can be conveniently charged from any USB port. It takes around 4 hours to fully charge the device from empty.
Unique Bladeless Design
Thanks to the bladeless design of this portable fan, it is ideal for children to use. The ventilator-free technology also results in minimum noise during operation (80 dB/h max), so the fan is perfect for use during the night.
Portable and Lightweight
The on-board battery can power the fan for up to eight hours of continuous use depending on the selected speed setting. While is mini fan is primarily designed for handheld use, the detachable holder enables it be used on a table or desk when needed.
Pros:
Long battery life
Quiet during operation – even on the highest setting
Bladeless design
Compact and easy to carry
Cons:
Not as powerful as other devices
---
10. Mystery Mini Handheld Fan Personal Portable Fan

In the midst of a hot day, the Mystery Mini Handheld Fan Personal Portable Fan provides effective personal cooling without compromising your safety. Designed from the onset to be safe and quiet, you can use the fan in a myriad of environments, including crowded places. Moreover, the fan has a compact design, taking up a little space as possible in your bag or on your office desk.
Features
Safe and Silent Blades
The Mystery Mini Handheld Fan Personal Portable Fan has safe and silent blade designs. At the same time, the blades have been optimised to create ample wind. As such, you can stay cool without worrying about disturbing other individuals or causing injuries to yourself or other individuals around you.
Rechargeable Battery
The handheld fan has a 18650 rechargeable battery. You can recharge the battery with a USB cable using a power bank, cellphone adapter, or power bank in three and a half hours. The battery can store maple charge to work for 3 hours when fully charged. It also comes with a charging indicator that turns to green while charging and turns off when the battery charges fully. This negates the risk of overcharging.
Versatile Compact Design
It comes with a sturdy body that allows users to handhold the fan for long periods. Additionally, it has a flat base that will enable users to set the fan on flat surfaces such as your desktop. And since it has a compact, lightweight build (weighing a meager 118g), you can carry the fan with you for outdoor activities.
One Button Controls
Every function of the fan is controlled using one button. Press the button to switch the fan on and off.
Pros:
Easy to use controls
Lightweight build and compact design makes the fan portable
Simple, functional design
Runs silently
Cost-effective
Cons:
Battery life is relatively limited
---
Handheld Fan Buying Guide
Handheld fans have become common devices in homes, offices, and other sectors for their efficient cooling purposes. They are lightweight and easy to carry around. They are compact, which means they occupy less space and can, therefore, fit in the tightest of spaces.
Handheld fans run on rechargeable batteries and can be used over a long time, and batteries can also be replaced whenever their health deteriorates. Their size and mode of power, therefore, make them efficient for use at home, office, and even on the move.
What Is a Handheld Fan?
A handheld fan is a small and portable device that is designed to cool a person by facilitating rapid air exchange.
How Does a Handheld Fan Work?
Handheld fans are mostly powered by batteries which run a motor behind the fan blades. The fan blades are designed to push the air from the back to the front to cool the user.
How Long Does a Rechargeable Handheld Fan Last?
Most handheld fans can last anywhere between two and nine hours, subject to the speed setting. This duration may vary depending on the battery health, which means that healthy batteries may support these fans for up to nine hours.
Features to Look for in a Handheld Fan
Whenever you are looking to buy a handheld fan, here are essential features to look out for.
Dimensions
The dimensions of a handheld fan can be specified in three ways: fan diameter, handle width and fan height. Most of the handheld fans could range in height, but most of them are below ten inches. The diameter of the fan contributes to its length dimension, which could be four and five inches, depending on the model. The handle width often determines the width, and most handheld fans will have a width of one to three inches. To put it into perspective, an ideal handheld fan could be 8 x 4 x 2 inches.
Weight

You may have already assumed that handheld fans are incredibly lightweight – and you would be right! Some of these fans weigh as little as 2 ounces, while some may weigh as much as 7 ounces. Depending on the material, the weight of a handheld fan may significantly be reduced to below an ounce. Weight is an essential consideration since a bulky fan would not be ideal for carrying around.
Design
Most users have different tastes, and this goes a long way in determining the handheld fan they buy. Most brands will have their handheld fans designed uniquely to appeal to potential buyers. Most of these fans will have a base upon which the fan can rest.
Some of these fans also come in a foldable design. These fans can be folded along their height, making them easy to carry due to the reduced size. When folded at 90 degrees, the lower part of the fan can serve as the base, making it easier to place on any surface.
Power
Most handheld fans need to be powered for them to function. For instance, you may find a 4W rated handheld fan, in terms of the maximum output power. Users, therefore, have two main powering options: USB port, which can be connected to any USB-enabled device such as a laptop or power bank. The other powering option is the battery, which most handheld fans utilise. These fans also utilise the USB port to charge the battery, which comes in handy while one is on the move.
Rechargeable
Since these fans are mostly portable and used on the go, they are powered by rechargeable lithium batteries. These batteries are recharged through a USB port since most incorporate them into their design. Depending on the manufacturer, batteries could be rated 2000 mAh. A higher rating for batteries could be 4000 or even 5000 mAh. While being powered by a battery, a handheld fan may go up to nine hours before recharging.
Multiple Ways of Recharging

There are various ways of recharging handheld fans. Some may be recharged using a charger, with a rating of say, 5V, and 1.0A. They may also be recharged using a USB charger, which draws power from the power outlets, provided the rating of the power adapter matches that of the fan to avoid electrical damage. They can also be recharged using other powered devices such as laptops and desktops via a USB cable.
Battery Life
The battery life of your handheld depends on a couple of factors. Of course, having a battery that will last for long is a perk most users will look out for. Proper recharging of the battery contributes greatly to longer battery life, and using the recommended chargers or adapters is therefore recommended.
Sound Output
For handheld fans, users will be looking for one with minimal or no sound output. As such, the most desirable fans are quite fans – those with little or no noise power, especially for those users who use them in offices.
Speed Settings
Most handheld fans have a 3-speed setting to meet their different needs. These fans can, therefore, operate on slow, medium, and full speed. This suits the needs of the user for various heat intensities.
Misting Option
Some handheld fans are fitted with a pressurised tank to help users combat the heat. This means that other than the cool air, these fans also help with cooling through waves of cool mist, which is likable to some users.